Professional Background: The Full Story
At the age of sixteen, I suffered a viral illness that I just couldn't seem to shake off. Eventually, I was diagnosed with Myalgic Encephalopathy (ME). I was a shadow of my previously fit and active self, even getting up to the bathroom required assistance and left me exhausted and weak. Nutrition was a key element of my recovery, both through the repletion of specific nutrients in which I was deficient, as well as through the nourishment provided by a balanced diet rich in whole foods. I became fascinated by the power of food as medicine and was committed to learning more.
Once my health allowed, I completed a degree in Nutrition and Dietetics at Kings College London followed by an internship at Hammersmith Hospital NHS Trust. I achieved first class honours, and won awards for the best academic performance in my cohort – I had clearly found my passion! My professors encouraged me to stick with academics and pursue a research career but I strongly believed that in order to make an impact as a researcher I first needed to gain practical experience working in the 'real' world.
For three years, I practiced clinically as a dietitian with Redbridge Primary Care Trust, in East London. Working in the hospital, long term care, and community settings; and specializing in artificial nutrition support and gastrointestinal disease. During this time I became more and more aware (and frustrated) by both the lack of available evidence to support my decisions on the most effective nutritional care plans for clients, as well as the lack of priority placed on the importance of nutrition as an integral part of client care. Together, these factors motivated my decision to return to the classroom so that I could develop the necessary skills to conduct and evaluate research studies.
In 2004, drawn by the opportunity to be mentored by Dr. Daren Heyland an eminent nutrition researcher, I packed my suitcase and left England for Canada. I completed my Masters in Epidemiology at Queen's University in Kingston, Ontario, with my thesis focusing on the implementation of nutrition guidelines. I was keen to hone my new research skills and apply what I had learned through my Masters, so I began working as a project leader at a clinical research centre, Critical Care Nutrition; co-ordinating several international, multi-centre studies. I continued to work part-time in this role while studying for my Doctorate, again in Epidemiology at Queens University. My PhD thesis entitled "Optimizing Nutrition Therapy Through the Evaluation of Barriers to Feeding Critically Ill Patients" focussed on identifying the barriers nurses and physicians face in following nutrition guidelines on a day-by-day basis and implementing strategies to effectively overcome these barriers.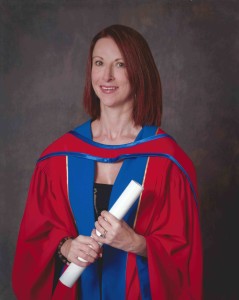 The completion of my doctorate corresponded to a time of transition in my life …. I got married, bought my first house, gave birth to not one but two babies; while my husband co-founded a hotel and non-profit in Central America. On the very same day that I submitted my PhD thesis, we boarded a plane bound for Nicaragua and a new chapter of my professional (and personal) life began.
After a hectic few years, I felt lucky to be able to take some time out and just enjoy being a mother. But I also love being a dietitian and sharing my passion for nutrition and health. After awhile I sought a way of being able to do both. At the same time a colleague contacted me to ask if I would be interested in teaching an undergraduate course. I replied 'yes, but I was not living locally' and she responded 'no problem, it is a distance learning course'! So I am now an instructor, teaching online nutrition courses. I have also recently started some consulting work and have become more involved with the health and wellness retreats hosted at our resort; performing personal nutritional assessments and running workshops.
When it comes to what the future holds – your guess is as good as mine! Maybe a post-doc, an academic position, nutrition consulting …. Regardless of my role I will continue to be dedicated to the generation, dissemination and implementation of high quality, evidence-based nutrition information, so that we are able to make the most appropriate decisions about how to feed our bodies for optimal health.
Interested in working with me?