I am writing this post suspended 3000 feet up in the air somewhere over the Atlantic. As tends to happen on long flights (when you're not tirelessly entertaining young children), my mind has wandered. I am on my way home from the International Dietetics Congress, a 3-day meeting held in Granada, Spain, that brought together members of dietitian associations from across the World. I was lucky to have been awarded a travel grant from Dietitians of Canada to present my doctoral work, which also meant that I was able to hear renowned experts speak about our profession. I am heading home inspired and passionate about my practice. Motivated to help individuals and groups to improve their nutrition. However, due to my research experiences, I am acutely aware that sustainable change is hard. In my own talk, I presented data showing that the influence of these types of educational meetings on improving health is small and that it is estimated to take 1-2 decades for the findings of research studies to be incorporated into routine practice! Yikes… These are pretty disheartening stats!
As I flick through my notes from the last few days (yes, I am old school and use a pen and paper), a few quotes have stood out which I'd like to share. Whether you work as a dietitian, or in an entirely different field, these words communicate principals that are worth pondering and acting on. While they were all spoken by different speakers discussing divergent topics, the underlying theme is the same…. championing change.

The theme of the congress was 'going to sustainable eating'. I was particularly alarmed by the data communicating the magnitude of food waste in developed countries. A third of food we purchase is wasted. We lose $90 billion each year on food that is not eaten. Each person wastes 125kg of food each year. (Sorry the supporting references were not provided).  I felt ashamed as I recalled all the times I have thrown food into the compost. It might become useful organic matter but nonetheless someone has grown, transported, maybe processed and packaged that food item so that it can be used to nourish me, and instead I have let it sit in my fridge too long or I was greedy and served myself too much! This quote by the president of the congress during the opening ceremony is powerful. We as consumers can change the world with our food purchasing decisions. The food industry will listen if we come together and demand changes to support a sustainable food system and to ensure the protection of the earth for our future generations.
In a session about the history of dietetics I learned how our profession was born out of the disciplines of nursing and home economics. During the 60's and 70's there was a move to distance our predominantly female profession from these historical roots, to facilitate its acceptance as a scientific discipline by the male dominant academic community. With the luxury of hindsight, we see that some important founding principals may have been lost along the way. The above quote demonstrates how for sustainable change to occur we need to learn from our predecessors and act on these historical lessons.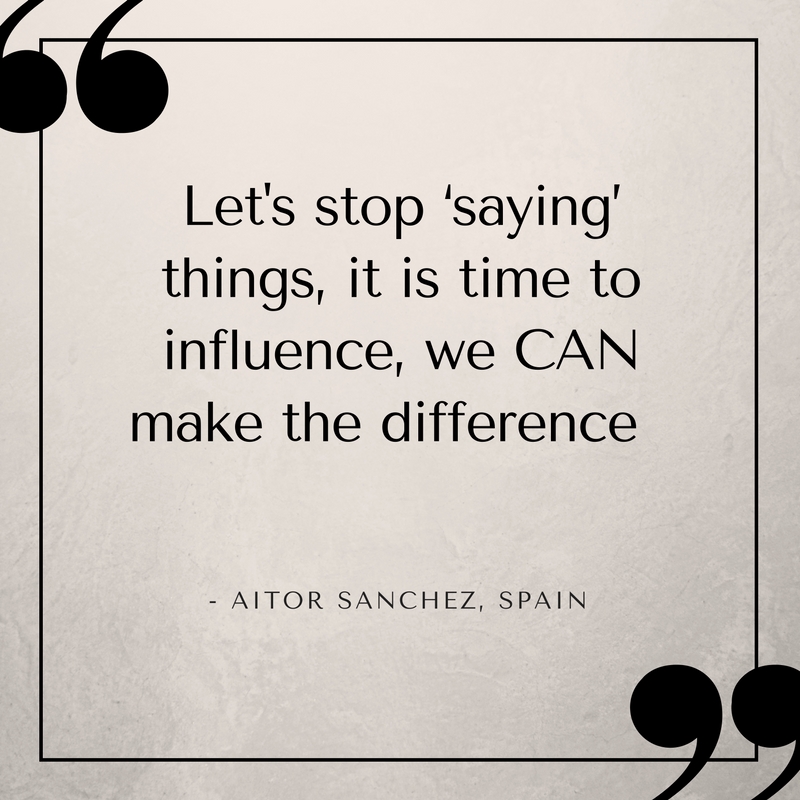 I have an interest in communicating evidence based nutrition messages and so I attended several sessions on adopting technology and social media in dietetic practice. During our training, we learn how to counsel individuals, educate groups, and how to run health promotion campaigns; consequently dietitians tend to be great communicators. However, to date our voices have not been strong among the cacophony of nutrition messages circulating in the media every day. We have preferred instead to work within our own client groups and communities. But to have an impact in contemporary society we need to become better at collaborating with our peers, with other health professionals, and with key influencers. Engaging others to advocate on our behalf can help facilitate the spread of consistent, evidence informed nutrition messages and start to reduce misinformation and confusion. It was great to hear about some of the initiatives promoting the role of dietitians in the media. The above quote was a call to action by one of the speakers on how we can shift the existing paradigm by positioning ourselves as influencers in the field of nutrition.
Often we sit back and talk about what needs to change. Often we feel helpless and ill equipped to make an impact (I do anyway). Sometimes we just have to start somewhere, take a single step, and just maybe change will follow.
Now if you excuse me it is time for a mid-flight nap!
I am not a musician and I am not Canadian born, so really I have no right to be adding my voice to the dozens, if not hundreds of articles and blog posts written about Saturday night. But I feel compelled to at least try to explain to my non-Canadian friends what I experienced… and therein lies the problem. There are no words. How do you even begin to describe an event that you know, even in the midst of it, that in years to come Canadians will be asking each other "Where were you on the 20th August 2016?" No, I am not referring to a terrorist attack, a devastating natural disaster, or a political scandal; I am talking about The Tragically Hip's concert. Yes, a single musical performance by a rock and roll band! And when you grasp for words and come up with 'epic',' historic', 'unprecedented'… I can almost feel your eyebrows raising and the scepticism in your gaze, especially as many of you may have never even heard of the band!
You see, The Hip (I have been in Canada long enough to have learned that you never say 'tragically' before 'hip' or 'ice' before hockey, unless you enjoy being laughed at!) has for the past 3 decades been Canada's most popular band. In May, they announced the tragic news that their lead singer, Gord Downie (aka 'Canada's Shakespeare'), had terminal brain cancer and this summer, following the release of their latest album, they would tour across Canada ending in their hometown of Kingston (which also happens to be my adopted hometown). Only a lucky few (7000 to be precise) were successful at securing tickets for this final show (it sold out in nano-seconds). Shortly after it was announced that the concert would be broadcast live on National television. Cities, towns, and communities across the country organized public screenings. In Kingston, 35,000 people gathered in Market Square (the very spot where I exchanged my marriage vows), a mere couple blocks away from where the live event was happening. Our mayor declared it to be Tragically Hip Day. We didn't join the masses downtown, preferring instead to share this moment with friends. At 8.30pm the feed from the Olympics was interrupted with the visual of The Hip members embracing backstage, and for 3 hours we watched (with a third of the Canadian population) their farewell performance, unedited and commercial free.
On Sunday, over FaceTime, I tried to explain the magnitude of this event to my sister (who was oblivious and much more concerned about the British medal tally in Rio) but I couldn't do the night justice.  I told her to look it up online. There have been many beautifully written and heartfelt prose shared by fans, describing the bands influence on Canadian culture, their musical legacy, and Gord Downie's courage in the face of death. Unanimously, they all make reference to The Hip being the soundtrack of the lives of Canadians. Even Prime Minister, Justin Trudeau, who attended the show, made such a statement. In the preceding months, since the announcement of Downie's diagnosis, I have heard this sentiment repeated again and again by friends …. 'The Hip -the soundtrack of my life'.
Growing up in the UK, The Hip was not the soundtrack of my life. On holiday in 1993, drawn by the large display in Sam The Record Man in Toronto, I bought their Fully Completely album. It was clear that this was what all the cool kids were listening to, and I was 16 and desperately wanted to be cool! But back in my bedroom in the Welsh hills I couldn't even make it through a few songs. The Hip were pure rock and roll and it jarred against my Brit pop sensibilities! From time to time, I'd try again but eventually the CD collected dust at the bottom of the pile. Ten years later, when I moved to Canada there was no escaping The Hip, they were a staple in every playlist on the radio, at parties, in stores. I lamented, and my friends from across the pond supported me by sending me CD's in the mail! Somewhere over the past decade something shifted and on Saturday night, I sang, I danced, I cried with millions of other Canadians but my experience was still different because the Hip were not my soundtrack.
This idea of a musical score or series of songs that complements and parallels your life story has been playing on my mind. I guess I felt a little slighted … where was my Hip? What is the soundtrack of my life? For most of us, it is not a single artist but a mishmash of songs. It's the opening chords in your first live concert as a teenager; the song you played on repeat as you wept over the loss of your first love; the tune that blasted on the radio on your summer road trip; the anthem that had everyone up dancing as you sang along arm in arm with your friends; the sombre tones at a loved ones funeral; the romantic ballad at your wedding. It is these songs that form your soundtrack.
I challenge you to stop and take a moment to really think about this music that is 'special' to you, and when you do I guarantee that you will be transported back to a specific moment or person in your life. A lump may form in your throat and a shiver may travel up your spine. And now you might start to understand the powerful influence of The Hip on Canadians of my generation. A true soundtrack does not merely support your story but is part of the very fabric of your life. Those songs capture your emotions, define your memories, and shape your perceptions of the world around you. We are indebted to the talented men and women who share their music and create this commentary for us. What an awesome gift that is, a gift that makes life richer.
It is not surprising that for a long time I couldn't understand the appeal of The Hip. I was trying too hard to be cool! They were simply not part of my lived experience, my soundtrack. But despite my ambivalence to the band, my first born is named, in part, after their song Cordelia. I guess this means that they are part of my soundtrack after all. That's the funny thing about soundtracks, you do not select the songs that make the playlist. It's an organic process.
Ultimately, we don't know what comes next for The Hip. The band themselves have never said that this will be their last album or their final show. Regardless, they will continue to set the tone of the soundtracks of the lives of millions of Canadian's for years to come. Of course, the context will be different, but the thing about music is that it transcends time and space.
The hashtag on Saturday read #Canadaisclosed, but in the UK we would have called it a 'lock-in'. This is when a landlord of a British pub allows patrons to stay after closing time, no one else is permitted entry, the party goes on, and those outside the doors are unaware of the great time their missing. On Saturday night there was a National 'lock-in' and Canadian's will be emotionally hung-over for some time!